PR-655 SpectraColourimeter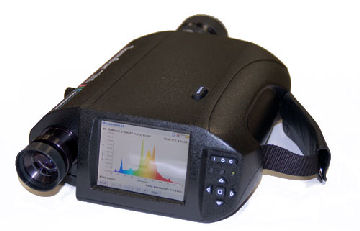 For nearly 15 years, the PR-650 SpectraScan has been the most widely used spectroradiometer in the world - the workhorse of the industry. The new PR-655 replaces the world renowned PR-650 with a plethora of enhancements. This unique, portable battery powered instrument utilises a fast-scanning 128 detector element spectrometer with a spectral resolution of 3.12 nm per pixel and is supplied with an automated measure shutter. A 1° measuring field is standard equipment with the PR-655 - a ½deg; aperture can be ordered as an option. Other hardware features include AutoSync® for automatically synchronising to the source refresh rate ensuring the utmost accuracy, an external trigger port allowing remote measurement activation from either a push button or peripheral device, a Secure Digital (SD) port for measurement storage, and a long lasting rechargeable Lithium-ion (Li) battery.
Easy to use
The PR-655 menus are accessed via the on-board, 2.25" x 3" high resolution, full colour touch screen LCD display and 5-way navigation keypad. Following a measurement, the PR-655 displays data and colour spectral and CIE graphs on the system display. The PR-655 design provides stand alone operation - no PC required. The PR-655 can be also controlled via the world famous SpectraWin software over the USB or Bluetooth interface or using text based commands (Remote Mode).
Flexibility
The unique design of the PR-655 makes tasks such as spectrally based photometric and colourimetric measurements, source spectral power distribution, Colour Rendering Index (CRI), dominant wavelength and correlated colour temperature quick and simple. We've further enhanced the flexibility by adding 2 extended sensitivity modes and 4 measurement speeds.
The PR-655 can be supplied with up to 15 filter based remote heads connected to the instrument in a "daisy chain" configuration to make simultaneous illuminance or luminance measurements - an ideal tool for tasks such as projector uniformity. Select heads for luminance, illuminance or chromaticity.
For applications other than radiance or luminance the PR-655 can be supplied with optical accessories such as a cosine receptor for irradiance / illuminance, LR-127 LED Analyser for testing LEDs to CIE 127, fibre probe for remote non-line-of-sight luminance testing, and a series of magnification lens for small spot size analysis. In fact, all of the accessories available for the PR-650 SpectraScan can be used on the PR-655.
Connectability
It's easy for the PR-655 to talk to the outside world - it comes equipped with USB and (optional) Bluetooth® wireless interfaces. It is supplied with text based, Remote Mode syntax and a driver that emulates an RS-232 interface (COM: port) making it a simple task to generate custom programming to perform specific tasks or for inclusion in an ATE environment. If you want, we can optionally add a traditional RS-232 I/F.