Night vision Radiometer/Photometer/Colourimeter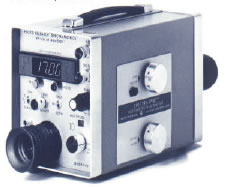 The NviSpot Night Vision Radiometer/Photometer/Colourimeter is a multipurpose instrument designed to meet the NVIS radiance light measurement compatibility requirements of MIL-L-85762 for NVIS applications, and also perform the conventional fast and accurate luminance and colourimetric light measurements long associated with the PR-1500 SpotMeter
It consists of a modified Pritchard-type filtered photometer system with interchangeable objective lenses and an internal calibration source. For NVIS measurements it includes a proprietary filtered, extended-red gallium arsenide photomultiplier tube with overload protection, threshold detection and an NVIS-compatible digital display readout. Although the NVISpot does not replace the requirement for a laboratory-grade spectro-radiometer specified in the MIL Spec, it does provide a relatively inexpensive and highly accurate means of light measurement for all phases of production and control testing.
NVIS radiance mode
For the Aviators Night Vision Imaging System (NVIS) applications, the PR-1530AR includes a special filter/detector combination whose transmission curve precisely matches the NVIS relative response in MIL-L-85762.
When operated in the NVIS Mode, the NviSpot display reads out in NVIS Radiance (NRa or NRb) units. Relative colourimetric filters are optionally available for evaluating the colour of the device under test, i.e., Green A, Green B, Yellow and Red.
The digital display of the PR-1530ARis specifically NVIS-filtered to eliminate any inaccuracy it's own light output might introduce into the test results.
A very useful feature in the NVIS mode is the user adjustable threshold detection. An audible tone is generated when the display reading exceeds the maximum value of NR units set by the user for the device and/or test. This feature enables the PR-1530AR to be used as a rapid GO/NO-GO test instrument for on-line inspection of a series of devices that share a common NR upper limit, for instance 1.7 x10-10 NR units. An optional fiber optic probe, the LP-15, further enhances the GO/NO-GO testing feature.
The calibration accuracy required by the MIL-L-85762 us assured through the inclusion of an extremely stable internal reference standard. Correct calibration can be instantly verified at any time without the need for any external calibration sources or relying upon some vague factory calibration. And to prevent the accidental damage to the sensitive photodetector, a resettable automatic overload protection circuit has been designed into the PR-1530AR.
Lens accessories are available to modify the field coverage of the PR-1530AR over the entire range of devices likely to be measured for NVIS requirements. A uniquely shaped fiber optic probe, the LP-15, is available for measurements best suited to its field coverage capabilities. Analog output is included, and a BCD output is optionally available to permit interfacing to a host computer or data-logger.
Luminance/Colourimeter modes
While the NviSpot is designed primarily for measurements relating to MIL-L-85762, it also functions as an extremely sensitive luminance and colourimetric measuring instrument. In this mode it acts as a high performance PR-1500 SpotMeter. Many of the standard PR-1500 accessories can be used with the NviSpot to extend its versatility to include the features currently available with the PR-1500 SpotMeter.
Features
Direct NVIS(NRa, NRb) measurements and GO/NO-GO testing of GreenA, GreenB, Yellow or Red panels or filters


Adjustable sensitivity threshold (NR) units with beeper

Stand-alone, high performance, photopically corrected Filter Photometer.

Resettable detector overload protection with beeper

Illuminance/Irradiance measurements(with optional accessories)

Relative colorimetric measurements of NVIS devices (optional)

Capabilities of the PR-1500 SpotMeter

Internal calibration source

NVIS compatible readout

Wide range of optical accessories

Dual sensitivity ranges for optimum performance
Specifications
| | |
| --- | --- |
| Measuring field aperture | 3 Degrees |
| Spot size* | 3° to 0.003 inches. (0.016 inches with the 7X standard objective lens)(See Field Coverage and Relative Sensitivity table) |
| Spectral response(NVIS filtered) | per MIL-L-85762(450 nm to 930 nm) Consult factory for Class A, Class B or both |
| Spectral response(photopic) | 380 nm to 760 nm |
| Photometric Accuracy | ±5% of full scale or ±1 digit (whichever is greater) |
| Readout | 3½ digits green LED display (filtered for NVIS compatibility) |
| Output signals | 0-2 volts analog standard; BCD parallel optional |
| Sensitivity | 10-4 to 104 footLamberts, 10-11 to 10-3 NR units. |
| Power | 117±13volts, 50 to 400Hz, 5 watts max(230±40volts available on request) |
| Size | 12½ inches(31.3 cm) x 6¼ inches(15.9 cm) high x 5¾ inches(14.6 cm) |
| Weight | 8½ pounds(3.6 Kg.) |
Field Coverage and Relative Sensitivity
Lens/*Optical Accessory

Lens-to-subject distance

Nominal Field Coverage

Relative** Sensitivity Multiplier

MS-75 (1X)

1.75 in.
(44.5 mm) to infinity

0.114 in.
(2.90 mm)
(at 1.75 in.)

1.

MS-1X

3.8 in.
(96.5 mm)

0.114 in.
(2.90 mm)

1.

MS-2.5X

1.76 in.
(44.7 mm)

0.046 in.
(1.17 mm)

1.

MS-77(3X)

4.1 in.
(104 mm)

0.038 in.
(0.97 mm)

1.

MS-5X

1.11 in.
(28.2 mm)

0.023 in.
(0.58 mm)

1.

MS-7X
(Standard Objective)

0.7 in.
(17.8 mm)

0.016 in.
(0.41 mm)

1.

MS-10X

0.61 in.
(15.5 mm)

0.011 in.
(0.28 mm)

10.

MS-25X

0.6 in.
(15.24 mm)

0.0045 in.
(0.114 mm)

100.

MS-50X

0.6 in.

0.0023 in.
(0.058 mm)

100.

LP-15

Contact

0.015 x 0.090 in.
(0.38 x 2.29 mm)

10.
*All lenses are fixed focus except the MS-55 lens. Contact factory for lenses of other field coverages.
**A relative sensitivity multiplier of 10 means the PR-1530AR is 1/10 as sensitive with the accessory as with the MS-55 lens