Instrumentation
Photo Research links
Downloads

Photo Research spotmeters are the standard of the industry.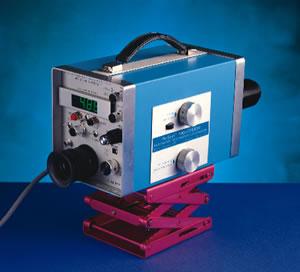 Over four decades ago, PhotoResearch invented "spot" photometry when it introduced the Spectra Screen Brightness Meter for the motion picture industry. A few years later, a military customer inquired about measuring aircraft instrument panels and Photo Research produced the first Spectra Spotmeter microphotometer
The PR-1500 Spotmeter is a sensitive, versatile photomultiplier-tube photometer that can measure luminance (photometric brightness) at any distance from 1¾ inches (44 mm) to infinity without the need for accessory lenses or changes in calibration. The PR-1600 SpectraSpot, a silicon-cell photometer/radio meter, is designed for applications requiring the inherent stability and near infrared response of the silicon cell, without requiring the higher sensitivity of photo multiplier tubes.
Typical applications
Display measurements


Cathode ray tube luminance

MIL-SPEC Lighting compliance

Street and Roadway lighting

Aircraft Panel Checkout

Material Reflectance Studies

Automotive Lighting

Colour Temperature Determination

Airport lighting

Air pollution monitoring

Lamp quantity control
Photomultiplier tubes
The standard photomultiplier phototube supplied has an S-20 response. These are specially selected and seasoned low-noise photodetectors.
Filter Turret
A 6-position filter turret is located the aperture mirror and the photomultiplier detector. This turret contains the "photopic" filter which modifies the spectral response of the instrument to precisely match CIE or "human eye" response. This photopic filter is individual trimmed and calibrated for each SpotMeter. With this filter in position the Spot meter functions as a precision luminance photometer(photometric brightness meter).
Red and blue filters are included in standard instruments for relative tristimulus and colour temperature measurements. (If special filters, such as red LED or scotopic response filters are installed, tristimulus and/or colour temperature measurements capability is not available) Option 32 provides three individually trimmed colourimetric filters for red, blue and photopic making the PR-1500 a more accurate relative colourimeter. The filter turret has an OPEN position for use in making relative radiometric measurements. An internal calibration-reference source is mounted in the CAL position of the turret for quickly checking the instrument calibration prior to making a measurement.
PR-1500 SpotMeter Lens Selection and Field Coverage Chart
Objective Lens

Focusing Range

Working Distance

Aperture Size

3°

1°

½°

¼°

1/8°

½° x 1½°

1/8° x 1½°

MS-55*

1.75 in. to infinity
(45 mm to infinity)

10 ft.
(3.05 m)

6.30 in.
(160 mm)

2.10 in.
(53.3 mm)

1.05 in.
(26.7 mm)

0.53 in.
(13.5mm)

0.26in.
(6.6 mm)

1.05 in. x 3.15 in.
(26.7 mm x 80 mm)

0.26 in. x 3.15 in.
(6.6 mm x 80 mm)

MS-1X

FIXED

3.80 in.
(96.5 mm)

0.114 in.
(2.90 mm)

0.038 in.
( mm)

10 in.
(3.05 mm)

10 in.
(3.05 mm)

10 in.
(3.05 mm)

10 in.
(3.05 mm)

10 in.
(3.05 mm)

MS-165

FIXED

6.5 in.
(165 mm)

10 in.
(3.05 mm)

10 in.
(3.05 mm)

10 in.
(3.05 mm)

10 in.
(3.05 mm)

10 in.
(3.05 mm)

10 in.
(3.05 mm)

10 in.
(3.05 mm)

MS-2.5X

FIXED

1.76 in.
(44.7mm)

10 in.
(3.05 mm)

10 in.
(3.05 mm)

10 in.
(3.05 mm)

10 in.
(3.05 mm)

10 in.
(3.05 mm)

10 in.
(3.05 mm)

10 in.
(3.05 mm)

MS-77

FIXED

4.25 in.
(108 mm)

10 in.
(3.05 mm)

10 in.
(3.05 mm)

10 in.
(3.05 mm)

10 in.
(3.05 mm)

10 in.
(3.05 mm)

10 in.
(3.05 mm)

10 in.
(3.05 mm)

MS-5X

FIXED

10 in.
(3.05 mm)

10 in.
(3.05 mm)

10 in.
(3.05 mm)

10 in.
(3.05 mm)

10 in.
(3.05 mm)

10 in.
(3.05 mm)

10 in.
(3.05 mm)

10 in.
(3.05 mm)

MS-7X

FIXED

10 in.
(3.05 mm)

10 in.
(3.05 mm)

10 in.
(3.05 mm)

10 in.
(3.05 mm)

10 in.
(3.05 mm)

10 in.
(3.05 mm)

10 in.
(3.05 mm)

10 in.
(3.05 mm)

MS-10X

FIXED

10 in.
(3.05 mm)

10 in.
(3.05 mm)

10 in.
(3.05 mm)

10 in.
(3.05 mm)

10 in.
(3.05 mm)

10 in.
(3.05 mm)

10 in.
(3.05 mm)

10 in.
(3.05 mm)

MS-25X

FIXED

10 in.
(3.05 mm)

10 in.
(3.05 mm)

10 in.
(3.05 mm)

10 in.
(3.05 mm)

10 in.
(3.05 mm)

10 in.
(3.05 mm)

10 in.
(3.05 mm)

10 in.
(3.05 mm)

MS-50X

FIXED

10 in.
(3.05 mm)

10 in.
(3.05 mm)

10 in.
(3.05 mm)

10 in.
(3.05 mm)

10 in.
(3.05 mm)

10 in.
(3.05 mm)

10 in.
(3.05 mm)

10 in.
(3.05 mm)

MS-55 with 12mm extension

FIXED

10 in.
(3.05 mm)

10 in.
(3.05 mm)

10 in.
(3.05 mm)

10 in.
(3.05 mm)

10 in.
(3.05 mm)

10 in.
(3.05 mm)

10 in.
(3.05 mm)

10 in.
(3.05 mm)

MS-55 with 36mm extension

FIXED

10 in.
(3.05 mm)

10 in.
(3.05 mm)

10 in.
(3.05 mm)

10 in.
(3.05 mm)

10 in.
(3.05 mm)

10 in.
(3.05 mm)

10 in.
(3.05 mm)

10 in.
(3.05 mm)

MS-55 with 68mm extension

FIXED

10 in.
(3.05 mm)

10 in.
(3.05 mm)

10 in.
(3.05 mm)

10 in.
(3.05 mm)

10 in.
(3.05 mm)

10 in.
(3.05 mm)

10 in.
(3.05 mm)

10 in.
(3.05 mm)

WL-15

6.6 in. to infinity

10 in.
(3.05 mm)

10 in.
(3.05 mm)

10 in.
(3.05 mm)

10 in.
(3.05 mm)

10 in.
(3.05 mm)

10 in.
(3.05 mm)

10 in.
(3.05 mm)

10 in.
(3.05 mm)

ZL-15 75-205mm

78 in. to infinity

10 in.
(3.05 mm)

10 in.
(3.05 mm)

10 in.
(3.05 mm)

10 in.
(3.05 mm)

10 in.
(3.05 mm)

10 in.
(3.05 mm)

10 in.
(3.05 mm)

10 in.
(3.05 mm)
Accessory

Units

Aperture

1°

½°

MS-55
MS-1X
MS-165
MS-2.5X
MS-77
MS-5X
MS-7X
MS-10X
WL-16
ZL-16

footLamberts = fL
Option 52-0

10-2 to 10+2

10-1 to 10+3

microwatts per steradian/square centimeter
mw.sr-1.cm-2
Option 52-0

10-2 to 10+2

10-1 to 2x10+3

candelas per square meter
cd.m-2
Options 52-1

10-1 to 10+3

100 to 10+4

mw.sr-1.cm-2
Option 52-1

10-1 to 10+3

100 to 10+4

MS-25X
MS-50X
FP-16

fL

10-1 to 10+3

100 to 10+4

mw.sr-1.cm-2
Option 52-0

100 to 10+4

10+1 to 2x10+5

cd.m-2

100 to 10+4

10+1 to 10+5

mw.sr-1.cm-2

10+1 to 10+5

10+2 to 10+6

CR-100

footcandles = fc-Opt.52-0
(lux = lx-Opt.52-1)

10-1 to 10+3
(10+1 to 10+5)

100 to 10+4
(10+2 to 10+6)

IB-16

fc
(lx)

10-6 to 10-2
(10-4 to 100)

10-5 to 10-1
(10-3 to 10+1)

LR-16

millicandelas - Opt.52-0
(millicandelas - Opt.52-1)

10+1 to 10+5
(10+2 to 10+6)

10+2 to 10+6
(10+3 to 10+7)
Specifications
Measuring Field Apertures

Specify either ½° or 1° aperture (see Lens Selection and Field Coverage Chart)

Sensitivity Range

Field Coverage

Viewing field

Bright, erect 9.2° viewing field with 6X viewing magnification. (16.6° with optional 3° circular aperture)

Eyepiece

Large(22mm) diameter focusing eyepiece with rubber cap.

Standard Objective Lens

MS-55(55mm, f/2.8) MacroSpectar lens. Focuses from 1¾ in.(44mm) to infinity.

Spectral Response(Unfiltered)

375-1,100 nm

Calibration

Traceable to NIST. Standard luminance calibration units are footLamberts but calibration in "candelas per square meter" is available upon request. Radiometric calibration is in microwatts per steradian per square meter.

Response speed

From 10 microseconds (on least sensitive range) to 200 milliseconds (on most sensitive range)

Absolute accuracy

(includes uncertainty of NIST standards)
±4% for photometric measurements(of a black body source);
±10% for radiometric measurements

Relative accuracy

(repeatability)
±1% per month;
±2%per year

Operator Controls

Power, Sensitivity and Response Speed switches - plus potentiometers for zeroing the amplifier and zeroing the dark current - are located on the back control panel. Two knobs on the side control panel are for filter selection and insertion of a viewing shutter.

Meter Hold

Push button on back panel allows transient meter readings to be retained for inspection.

Readout Indicators

A 3½ digit, no-blinking digital readout has an illuminated Multiplier Indicator

Output signals

All models have a 0-2 volt analog output jack, capable of driving any analog device whose impedance is greater than 10,000 ohms. In addition, all models can be provided with a BCD output jack (Option 54)

Operating Temperature

32°F to 110°F(0°C to 43°C)

Power Requirements

117 volts, ±13 volts, 50 to 400Hz, 5 watts maximum; 230 volts, ±40 volts available on request.

Size and weight

12½ in. (31.3 cm) x 6¼ in. (15.9 cm) x 5¾ in.(14.6 cm). Weight is 8½ pounds(3.9 kg)