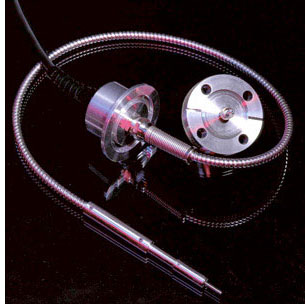 The performance of the cable assemblies are certified via helium leak testing by an independent test laboratory. Window and stub assemblies are not certified.
Maximum helium leak rates of 10-11 cm3/sec (torr) are achievable with single fibre cables and 10-9 cm3/sec (torr) with bundled fibres. Operating temperature range is -40°C through +100°C.
The vacuum seals are 2.16" diameter aluminum NW40 flanges or .375" O.D. stainless steel feedthroughs. Other flange types are available upon request.
For other fibre configurations, numerical apertures, termination types, etc., see Custom Products.