News & Events
Photo Research links
The next generation of hand held photometers and colourimeters has arrived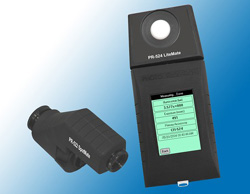 Glen Spectra, the exclusive UK representatives of Photo Research Inc. are proud to announce that the next generation of hand held photometers and colourimeters has arrived. These combine exceptional performance with tremendous ease of use. Several different flavours of instrument are available to enable them to be matched to your measurement requirements.
They can be offered with a cosine receptor for illuminance measurements (Lux) or for luminance (cd/m²) a telescope is available. This features true Pritchard Optics to enable you to see the exact measurement area which can be as small as 1.8mm diameter. Optionally the systems can be configured to also make colour measurements. All systems have an excellent sensitivity range, for example 0.01 to 300,000 Lux with a ±2% accuracy.
All systems include a large easy to read 38 x 57 mm back-lit touch screen display, Secure Digital (SD) card slot for measurement storage, USB interface for easy transfer of data to a computer and a rechargeable Li-ion battery. The only button on the instruments is the measure button, it is that easy to use. For applications, such as projector uniformity characterisation, up to 16 measurement heads can be chained together enabling them to make simultaneous measurements. When it is necessary to make a hands off measurement, or when measuring a flashing source the measurement can be remotely triggered. Also when measuring non-DC sources, such as CRTs, the instruments automatically determine the source refresh rate and adjust their parameters to ensure reproducible readings.