Instrumentation
Photo Research links
Downloads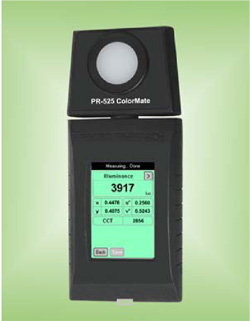 Modern Technology
The PR-525 colourMate brings hand-held, colourimetric measurements into the 21st century. It features a backlit touch- screen LCD display, USB interface, MMC (or SD) card slot and rechargeable lithiumion battery. Measuring refreshing sources? The PR-525 automatically syncs to non-DC signals. The PR-525 can be triggered remotely, and once triggered, will send a pulse to a remote device such as a xenon strobe. This way, single event sources can be measured.
Ease of Use
All set-up parameters, data display and management is handled by "touching" through menus on the on board display. Making a measurement is as easy as pressing the only button on the PR-525 - the measurement button.
16 Heads are Better Than One
If you have a need to make simultaneous colour measurements of multiple areas, say uniformity of a projected image,the PR-525 can be outfitted with up to 16 remote heads (PR-515 Remote Head) all individually addressed and controlled from a PC talking to the PR-515 base unit using the included PR-525 software.
Data Transfer
Following measurements, data can be sent to a PC via the USB interface - or the multi-media storage medium (MMC or SD) can be removed and inserted into a card reader connected to a PC..
Features
Applications
Room Lighting


Illuminare Chromaticity

Digital projector chromaticity

Illumiance and colour uniformity

Set lighting / colour temperature

Ergonomic testing
Standard Equipment
Specifications
Standard Equipment

PR-525 Colorimeter with Illuminance Measuring Head, Lithium-ion battery, MMC, carrying case, AC Adaptor, MMC (SD) 'Explorer' PC software

Digital Resolution

20 bits

Sync Range

20 to 400 Hz

Measurement Modes

Illuminance (lux or footcandles)
Chromaticity (CIE x, y, u', v', CCT)

Options

PR-515 Remote Heads (up to 16)

Illuminance Range

0.01 - 400,000 lux (0.001 - 40,000 footcandles)

Illuminance Accuracy

± 2% when measuring NIST traceable illuminance standard at 2856
Kelvin (Illuminance A)

Illuminance Precision

£ 0.05% at 0.1 lux (0.01 footcandles)

Minimum Illuminance for Colour Measurements

1 lux (0.1 Footcandles) at 2856 Kelvins (Illuminant A)

Colour Accuracy

± 0.0015 in CIE 1931 x, y measuring Illuminant A (2856 Kelvins)

Colour Precision

£ 0.0005 in CIE 1931 x, y measuring Illuminant A (2856 Kelvins)

Measurement Storage

Internal, Multi Media Card (MMC) or Secure Digital (SD)
Capacity:
Internal: 100 Measurement Buffer (while unit is on).
External: For a 64M Card: Approx. 106,000 measurements (approx. 600 bytes per measurement)

Power

Rechargeable lithium ion battery - charges in the PR-525 while connected to the external supply.

Battery Life

6 hours continuous use (without backlight)

Interface

USB

Weight

9.0 ounces (255 grams) without battery

Dimensions

Main Body: 4.73 x 3.0 in. (17.5 x 7.62 cm)
Measuring Head: 2.17 x 3 in. (5.51 x 7.62 cm)

Schematic