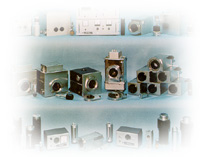 Founded in 1963, Products for Research has devoted its energies to improving the performance of low light level detection devices such as photomultiplier tubes, vidicons, image intensifiers, intensified vidicons, solid state diodes and solid state arrays.
Enclosures operated at ambient temperature and cooled by means of thermoelectrics, compressors, dry ice and liquid nitrogen have been successfully employed in such diverse applications as undersea research, air pollution monitoring, thickness gauging of steel, astronomical observation, laser communications, high altitude airborne research and outer space programs. In addition, Products for Research housings and accessories are standards of excellence throughout the scientific community in laboratories engaged in the fields of physics, chemistry, biology, medicine, nuclear physics and optics.
With more than forty years experience in mechanical design, electronics, refrigeration, cryogenics, electro optics and vacuum systems, the engineers at Products for Research frequently work closely with industry and the scientific community in the design and fabrication of customised devices.
Glen Spectra represents Products for Research in the UK and Ireland.